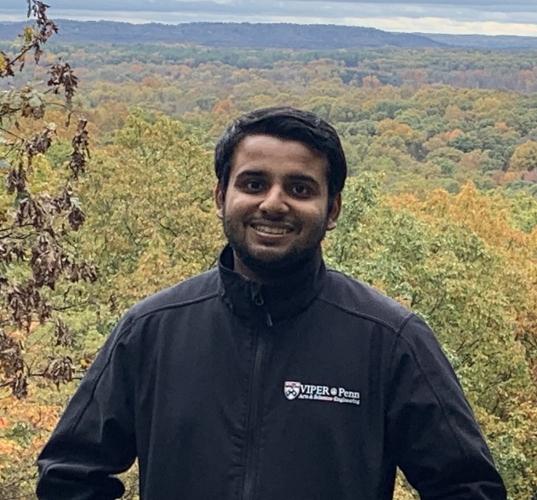 Abhinav (Abhi) Ramkumar (VIPER '21)
Degrees and Majors at Penn?
BA in Physics and Astronomy and BSE in Materials Science and Engineering
Current Job?
PhD Candidate in Mechanical Engineering at Purdue University
Awards and Achievements
National Defense Science and Engineering Graduate (DoD NDSEG) Fellow (2022-2025)

National Science Foundation Graduate Research Fellowship Program (NSF-GRFP) Honorable Mention (March 2022)

William R. Graham Materials Science and Engineering Senior Design Award - Judge's Choice Award (April 2021)

Netter Center Shah Prize for Innovative Undergraduate Student Projects Recipient (January 2020)
Why did you join VAB?
I joined VAB to make an impact on the journeys of current VIPER students and to remain engaged with the program. VIPER has provided me with such a strong multifaceted foundation that is helping me accomplish my goals as a graduate student and beyond. I'm especially passionate about mentoring current VIPER students and VAB provides me with an opportunity to share the insights that we have gained and expand the success we are already seeing in this program.
What part of the energy industry are you most excited about?
I'm excited about the application of statistical physics and network science in the context of granular materials, which is the second most manipulated material in industry after water. I'm especially excited about utilizing multiscale materials modelling in solving energy-related the challenges as it can make an impact on efficiency of manufacturing materials and in designing resilient sociotechnical systems.
What is something that you're interested in?
During my free time, I love singing Carnatic (Indian Classical) music, playing the violin, and pursuing creative collaborations with pop, jazz, and film music. I am also interested in music technology, which a couple of fellow VIPER student and I explored as a part of our senior design project on adaptive acoustic materials.
What is one of your nerdiest interests?
Network Science: my favorite aspect of this interdisciplinary field is how we can capture the important properties of so many different systems in a general way, which is something that excites me about using it to connect vastly different problems through a unifying framework.