The On-Ramp to Research
Penn has a strong commitment to undergraduate research, and VIPER uniquely positions its students to connect to cutting-edge research with Penn faculty members and have access to interdisciplinary resources and facilities in energy science and engineering. VIPER students dive into the world of research early in their academic career, and their research efforts are continuously supported throughout their time at Penn. 
Each VIPER cohort participates in a two-seminar series, VIPR-1200 (in the spring of their first year) and VIPR-1210 (in the fall of their second year), as well as conducts on-campus research during their first summer at Penn.
In VIPR-1200, students explore a variety of current energy research topics, discuss the challenges involved with conducting research, and get valuable practice reading technical papers. Students receive guidance for how to identify and join the research group of a Penn faculty member who is aligned with their interests and craft research proposals for the work they will be doing in the summer. 
During the summer, students conduct research on-campus in their respective laboratories. They have the opportunity to participate in regular summer lunches which serve as an additional support network for their research. For more information about the summer research experience, click here.
In VIPR-1210, students build their skills in science communication as they share their work with others in the scientific community. In this course, students get practice in presenting their research in various forms, including posters and presentations.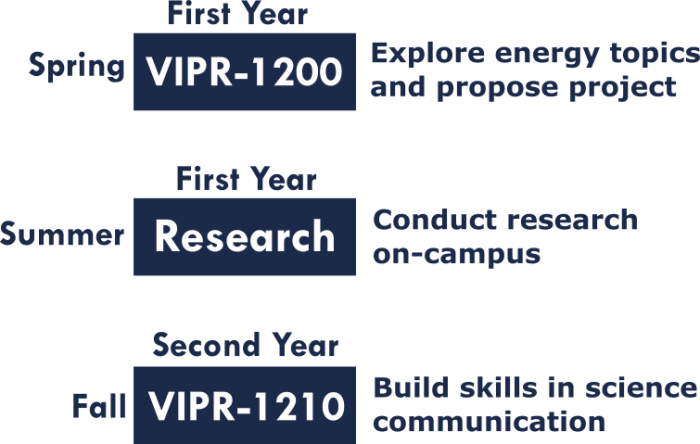 Continuing Research with VIPER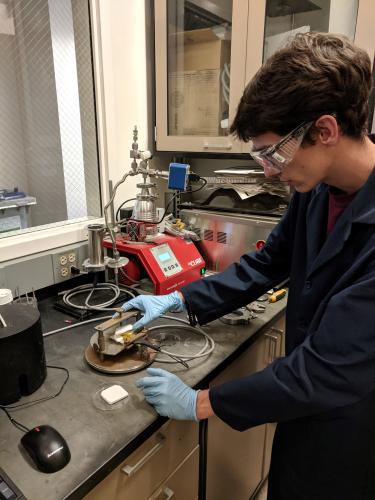 Students should complete two summers of energy research with VIPER. All projects should be related to energy in some way, and students should be able to explain the energy relevance of their projects. Each spring, research proposals for upcoming summer projects are evaluated and approved by the VIPER leadership team. 
During their first summer, students are expected to conduct research on-campus with a Penn faculty member, immediately following the VIPR-1200 spring course.
After the first summer, students may propose to conduct summer research at a different institution (ex. national laboratories, other universities, etc.) either in the United States or abroad. Projects will be evaluated by the VIPER leadership team, and students are encouraged to communicate their potential plans as early as possible. Approved projects will reflect graduate-level work in research and development, be comparable to the time commitment of summer research at Penn, and have potential to contribute knowledge to scientific literature. Research at different institutions will fulfill students' research requirements; however, they are not eligible for VIPER funding or credit.
VIPER students can opt into conducting research for a third summer of research at Penn and receive VIPER funding. Students who choose to do this should indicate this interest by submitting a summer research project proposal in the spring. Students who complete a third summer can use this credit to fulfill one of their VIPER energy course requirements.
Students interested in conducting research under the formal supervision of their Penn faculty advisor during the academic year should register for independent study credit (1 CU per semester) through the appropriate department.
VIPER research experience is separate from the senior design projects that seniors complete for their respective majors in the School of Engineering and Applied Science (SEAS). 
Ideally, students work continuously in a Penn science or engineering laboratory for 2-3 years, and by graduation have brought a research project to fruition, resulting in the student as a co-author on a research paper in a peer-reviewed journal. While this accomplishment is widely celebrated, students are not required to publish as a part of the program curriculum.