Curriculum Overview
VIPER is a unique college experience that positions students to make a significant impact in the development of sustainable energy science and technology while cultivating an interdisciplinary perspective in science and engineering and forming lasting connections with a community dedicated to solving the world's energy challenges.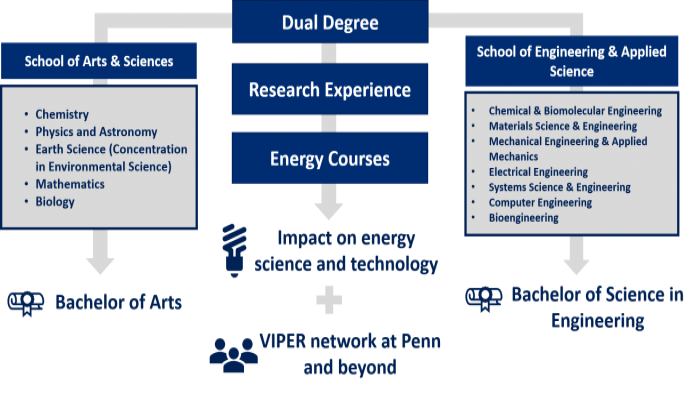 Dual Degree
VIPER is a coordinated dual-degree program at Penn, and our students pursue two degrees -- a Bachelor of Arts in the School of Arts and Sciences and a Bachelor of Science in Engineering in the School of Engineering and Applied Science. Click the above degrees for more information about their degree requirements and click here to see more information about VIPER-approved major options. Dual-degree students should complete at a minimum of 46 course units (CUs).
Research Experience
Students take a dedicated "Introduction to Energy Research" seminar in the first (VIPR-120; 0.5CU) and second year (VIPR-121; 0.5CU). This seminar series prepares students for their first summer of research at Penn by introducing them to current energy research topics, the challenges and techniques involved with conducting research, and strategies for reading and writing technical papers. Throughout this course, students will be guided towards finding research opportunities with Penn faculty mentors that reflect their interests in energy science and technology. For more information about summer research support, click here. 
During their time at Penn, VIPER students conduct research for 3 summers or 2 summers and 2 semesters. Students can pursue research opportunities both in and out of Penn. For more information on VIPER research experiences, click here. 
Energy Courses
Students complete at least 3 energy courses during their time at Penn. Click here for more information about energy courses at Penn. 
In summary, VIPER students complete:
Requirements for the Bachelor of Arts
Requirements for the Bachelor of Science in Engineering
VIPER Requirements

VIPR-120 (0.5CU)
VIPR-121 (0.5CU)
3 summers or 2 summers and 2 semesters of research
3 energy courses