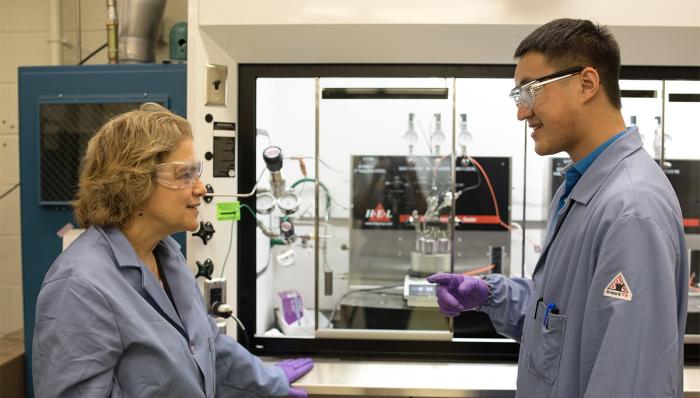 Summer Support
Ongoing research experience in Penn's science and engineering laboratories is fundamental to the strength of the VIPER curriculum, and VIPER students have the opportunity to conduct graduate-level research with Penn's renowned faculty members. The introductory spring seminar, VIPR-1200, helps students identify and join Penn research groups based on the student's individual interest. After VIPR-1200, VIPER students are expected to conduct research on-campus under the guidance of their Penn faculty advisor during their first summer (see here for a description of the complete summer research requirement).  
VIPER summer research experiences at Penn last for 12 weeks and are full-time, 40 hours per week. VIPER provides significant financial support towards summer research experiences, including: 
A housing stipend for living expenses
Supplemental summer research funding if requested by Penn faculty. Further information and request submission form can be found here. 
Supplemental funds for conference-related travel (offered year-round). Together with research groups, VIPER can split costs associated with VIPER students' travel to conferences to share their research broadly, up to $800.

If desired, students may take up to one summer class at Penn while simultaneously conducting summer research.
Students who elect to do this are responsible for tuition costs.
If VIPER students are unable to complete the 12 weeks of summer research, they must receive permission from their Penn faculty advisor and the VIPER leadership. Depending on the number of weeks not completed toward the 12-week requirement, the student may be required to complete a semester of independent study research in the following fall semester for 1 CU of academic credit.
 
After the Summer
Following the completion of a student's summer- or regular semester-based research experience, each student should submit a summary of their research experiences.
Since research is a fundamental building block of VIPER science and engineering curriculum, students are strongly encouraged to stay involved in research laboratories on campus during the fall and spring terms – via informal or voluntary activities or per the discretion of the student's research mentor -- even if they aren't formally conducting research during that time. 
As VIPER students proceed through the curriculum during their years at Penn and engage successive research experiences on campus, they are encouraged to remain involved with their original lab and research group, in order to build expertise and depth of knowledge. However, if a student and/or research mentor prefer not to continue with the arrangement, the student can take steps towards joining a different research group at Penn.