Written by Ben Hammel (VIPER alumnus, Class of 2021)
This year, VIPER piloted the inaugural VIPER Day, the first coordinated effort to bring VIPER alumni back to campus. VIPER Day was held at the end of Energy Week, and 18 VIPER alumni from across the nation attended.
VIPER Day began with a galvanizing address from Dr. P. Roy Vagelos. Vagelos urged VIPER students and alumni to push forward with their work, recognizing the need for energy solutions to avoid the worst consequences of climate change.
Following Dr. Vagelos's remarks, seniors from the Class of 2023 presented and reflected on their past four years. Each of the senior students had their own take on the VIPER experience and their own paths forward. While some will continue conducting energy research in graduate school, others plan to pursue energy policy or energy trading. Although the paths each student will take are different, the VIPER Class of 2023 shares a common thread in interdisciplinary excellence in energy research.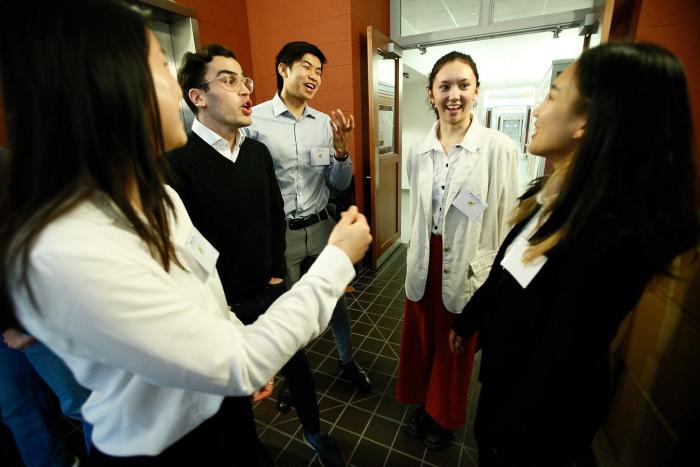 Following the Senior Presentations, VIPER alumni donned hardhats and ascended to the top floor of the Vagelos Laboratory for Energy Science and Technology (VLEST). Actively under construction, the VLEST building was a series of concrete slabs and steel rising above the Palestra, David Rittenhouse Laboratory, and Singh Center for Nanotechnology. Alumni asked questions about the cantilever design and planning process, learning about the extensive design and computer modeling efforts necessary to build this future titan of energy research. In the ceiling, steel bars were in place for a grand accordion door; holes were placed with remarkable precision using modern, GPS-guided drilling. On the ground, precise strokes of paint marked the outlines of rooms. On the corner of the first floor, a few orange marks laid out the new VIPER Student Lounge, many times larger than its predecessor to accommodate growing classes of VIPER students. VLEST demonstrates Penn's dedication and future as a hub for energy research.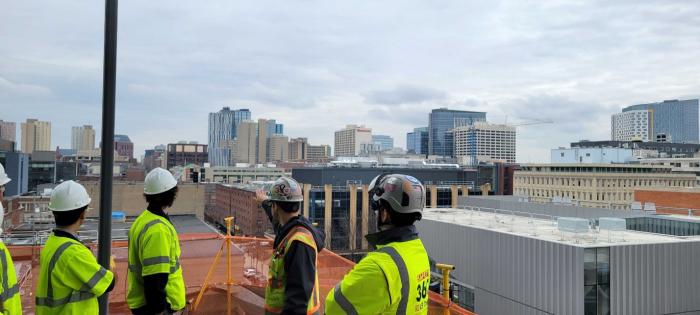 "[The] new VLEST building is on-going and exciting. VIPER students have been doing amazing things in the program. I especially enjoyed learning about the more diverse career paths that students have chosen to pursue this year--beyond academia and research, many also looked into policy, laws, and energy activism."

- Kate Jiang (VIPER '22)
Back in the Chemistry building, alumni and students mingled in a networking event. Alumni gave brief introductions, with representation across startups, universities, and Fortune 100 companies. Students and alumni shared stories, advice, and made new connections.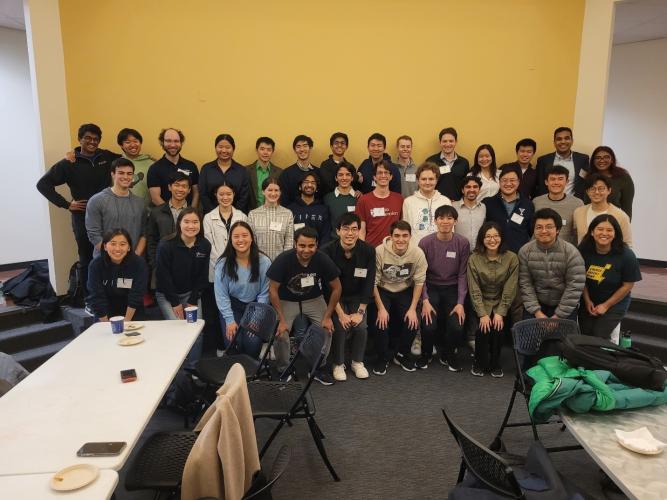 "It was very inspirational for me to see VIPER seniors and alumni who were able to translate their interests in climate and energy into careers. I often stress about finding jobs that both stimulate me and align with my values, so it was great to learn that doing so is very possible. I also felt more connected to the VIPER program after meeting the alumni. It was amazing to see so many people with shared interests and experiences. I think it's very easy to lose touch with any community, including VIPER, and events like VIPER day (especially with the alumni) are a powerful way of preventing this."

- Colby Snyder (VIPER '26)
The day was wrapped up at White Dog Café with students, alumni, and the program leadership enjoying dinner together, meeting and catching up in a less formal context.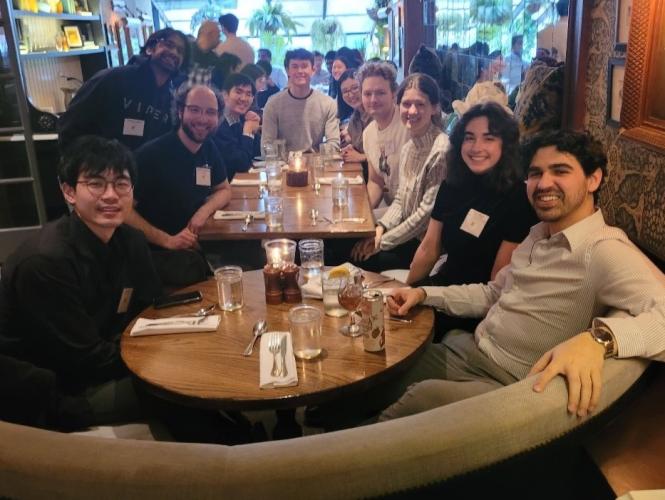 VIPER Day left many impressions on the students and alumni who attended. Many alumni were excited to see how much VIPER has developed in recent years. Clearly, VIPER is growing to be more than just a dual degree program but rather a diverse community centered on solving important energy challenges. I can confidently say that I am looking forward to the next VIPER Day!