To address one of the major challenges of the COVID-19 pandemic, Luka Yancopoulos (VIPER '22), founded Pandemic Relief Supply (PRS), which reliably provides affordable protective equipment to those in need. Conceptualized this spring, PRS is now a major operation with a team of 24 people that has delivered over 75 million products and protected over 12 million people to date! Learn more about Luka's story below:
By Luka Yancopoulos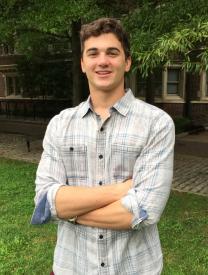 My father has been my hero for as long as I can remember. A core principle of his has always been to "do well by doing good," and it is this underlying tenet that has driven his company, Regeneron Pharmaceuticals, to where it is today. My father has been unrelenting in his pursuit of making the world a better place, utilizing genetic engineering to turn science into medicine by producing optimized human antibodies to treat disease. His hero, in turn, was Roy Vagelos, a trailblazer in biotechnology and uncoincidentally, a UPenn alum.
These two great scientists are my role models and my admiration for their unwavering dedication to solving some of the world's biggest problems ultimately led me to apply to the VIPER Program. In doing so, I decided to follow in their footsteps and confront the greatest existential threats to humanity head-on. As I have grown up, I have been able to find no greater threats to our world than environmental degradation and the energy crisis. The VIPER Program would allow me to study both Bioengineering and Environmental Science, courses of study that would be integral to what I want to accomplish.
My undergraduate summers were spent conducting research at Penn, and I looked forward to beginning a summer of research at Regeneron, where I planned to incorporate my past summer's work involving nanopore testing devices with disease diagnostics. As COVID-19 prematurely brought my semester to an end, I began studying remotely from home and continued to develop this research between Penn, Goepert, and Regeneron, preparing proposals for the NIH and other organizations that provide funding.
Amidst the chaos of the pandemic, a dear friend of mine and fellow student at the University of Pennsylvania, Nick Yeh (Class of '21), approached me, inquiring if Regeneron researchers had enough protective equipment and lab supplies, as his family had been in the international import and export space for generations. As a result of this, his family had secure relationships with reliable manufacturers who produced medical equipment, lab supplies, and safety gear. I brought this to Regeneron's attention and soon learned that their vendor, a large, century old public company, had a major shortage and could not sufficiently supply the equipment that Regeneron's researchers needed.
Recognizing the critical nature of the situation, I volunteered to facilitate this relationship, helping present the reliable supply channel provided by the Yeh family to the procurement staff at Regeneron. D.I.G. and the Yeh family were able to provide reliability during a time of uncertainty, delivering in a time of need at incredibly affordable prices; I am personally grateful for this as they were able to secure protective equipment for the heroic researchers at Regeneron working on a cure for COVID-19.
My mother, a nurse practitioner at Columbia Medical Center, soon asked if I could help her office get safety supplies, as their primary supplier was now experiencing major shortages as well. While finishing up the semester remotely, I volunteered my services and used my own savings to further vet overseas manufacturers with the hope that I could bridge the gap between manufacturers and frontline workers. In doing so, I began building a software platform and database of manufacturers who could reliably supply frontline workers with the equipment that they needed. With more successful deliveries came more requests for help, and I soon found that I did not have enough manpower to continue this non-for-profit effort alone.
As the spring semester came to an end, I introduced the mission to some of my best friends from childhood: Will Pundyk (Cornell '20), Greg Chung (Cornell '20), John Peruzzi (Stanford '20), and Emma Davies. Together, we grew the company and our brand to help centralize our efforts and mission into one organization—Pandemic Relief Supply. While we initially intended to remain a non-profit, major medical retailers began approaching our team to purchase bulk quantities for resale. We recognized the opportunity to make a small commission, which could be re-invested into the effort, and ultimately begin a process of driving essential medical devices into the hands of those who need them most.

We have built an A-Z supply chain software, utilizing data records from US Customs and Border Patrol to track verified supplies brought into in the US and managing incoming requests for donations and orders, connecting consumers directly to the source of essential medical supplies. The PRS team now consists of 24 people, with employees specializing in software development, material science, healthcare education, and logistics and supply chain optimization.
Utilizing this software platform, we have delivered over 75,000,000 FDA products to a wide range of groups, including federal government organizations, state governments, hospitals, healthcare organizations, and schools and universities. Through it all, we have only retained enough profit to drive the growth of our company, which in turn has allowed us to positively affect more and more lives.
Along with the delivery of medical supplies, we are working with volunteer nurse practitioners who offer telehealth education to product users so that they know how to properly use the equipment in order to inhibit disease transmission. They also provide medically safe best practices and outline the products necessary to safely return to work. These healthcare professionals offer live telehealth appointments with scheduling soon to be available through our website, and write educational blogs, which are posted to our forum. Access to reliable information is crucial during this time, and we at Pandemic Relief Supply consider it part of our mission to ensure that.
We believe in doing well by doing good and that staying safe should never be a struggle—Pandemic Relief Supply has been and continues to be integral in pursuit of this mission.