Will Deo (VIPER '21) recently published a policy digest entitled 'Can Nuclear Hit Its Stride in Africa' through Penn's Kleinman Center for Energy Policy. Click here to read the full article.
Will was selected to be part of the inaugural class of Undergraduate Student Fellows. The Kleinman Center launched their Undergraduate Climate and Energy Policy Seminar in 2019, and it is a selective and cross-disciplinary program for committed undergraduate students interested in energy topics. As part of the seminar, students attend regular lunchtime seminars focused on energy and climate policy from researchers across Penn's campus. Several VIPER students also belong to this cohort, including Emma Glasser (VIPER '22), Richard Ling (VIPER '20), and Zachary Whitlock (VIPER '20). If you are interested in learning more about the program and applying in the Fall, keep an eye on this page.
Keep reading to learn more about Will's experiences!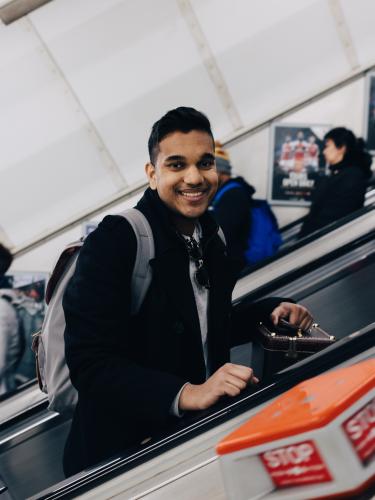 By Will Deo
Being part of the inaugural class of Kleinman Fellows was certainly a rewarding experience. By bringing together students from across undergraduate majors and schools, the group was composed of undergrads with a shared common interest in climate and energy policy. Through the program, we were able to engage in various events at the Kleinman Center for Energy Policy including a dedicated speaker series that included guests ranging from Penn Faculty, through visiting scholars, and even faculty from other universities such as Dan Kammen, Professor of Energy at University of California, Berkeley and former Science Envoy to the State Department.
Through the program, all fellows were invited to contribute to the Center's publications through either a blog post or policy digest. The topics examined were as diverse as the students that partook in the seminar ranging from a reexamination of flood insurance in more volatile climates through examining pressures imposed by COVID-19 on wind developers. I chose to write my piece 'Can Nuclear Hit Its Stride in Africa?' on the potential for nuclear power generation to allow upstarting African grid programs to skip traditional fossil fuel driven power and move into relatively abundant and cost-efficient nuclear power. This comes at a time where next generation technologies in nuclear have failed to gain market share in developed markets, but their prospect's in developing regions seem much more promising.
I would certainly encourage all students involved in the VIPER program to consider applying to be a part of the Spring 2021 Fellows Program especially if you're motivated to examine the multi-disciplinary approach that is necessary to actuate changes in the energy landscape throughout the United States and beyond.